Take a Language Level Test
Curious to see what you current level is?

Try one of the language tests below. They each consist of thirty questions and you are free to opt out after every section of five questions.

To have a completely accurate measurement of your level, it is also recommended that you schedule a spoken assessment with a Ciao Languages representative. Enjoy your test!
Ciao Languages Level System
Just like with any activity, there are different levels of "being good" at something. To make your life easier, we have broken foregin languages down into various levels of proficiency. At each step, there are grammatical structures and vocabulary items to be learned. In this way, it's always clear what you need to know and what you will need to do.
Think of the level as "CAN-DO" statements. As you progress through the levels you "CAN DO" more and more things with the language.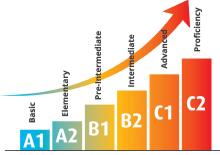 Level A1 – Beginner
A1 – Once you have completed this level, you will be able to engage in a very basic conversation, say where you are from, describe your home and family, and talk about what you do in your free time.
Level A2 – Elementary
A2 – You have a general idea of how the tenses work and can now have some basic conversation. You are able to say what you will do and have done, compare objects, people and experiences. You can give more detail about your preferences.
Level B1 – Pre-Intermediate
B1 – At this level you are able to formulate your opinions and to justify them with explanations. You no longer have much difficulty in shifting back and forth between tenses. You are fairly autonomous with the language, not just able to "get by," but to strike up conversations and interact with people naturally.
Level B2 – Upper Intermediate
B2 – Your ability to communicate is becoming more sophisticated and you are able to use a wider range of vocabulary to describe your emotions, feelings, opinions and preferences. You make hypothetical statements about the past and future and discuss advantages and disadvantages of a choice.
Take our free test to see what level you are!
Level C1 – Advanced
C1 –  This is the level where you begin to deepen your knowledge of the language's culture and gain a greater understanding of cultural references in conversation. Your knowledge begins to extend to implicit understanding of concepts and you are able to adapt your way of speaking to informal and formal situations.
Level C2 – Mastery
C2 – This level is known as the "Mastery" or "Proficiency" level because it is where you become so knowledgeable about the language that you are able to deal with any situation that might arise. You are able to make a joke, quote a proverb, or make an elliptical remark. Congratulations, you may have a bit of an accent when you speak, but you have mastered the foreign language.
Learn More about Ciao Languages